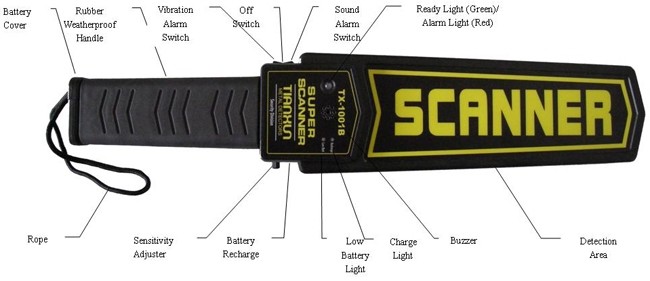 Rechargeable Super Scanner
Model No.: WLT-1001B
Key features:
1. Ultimate sensitivity: detects a pin from 60mm distance; one coin from 100mm; 6 inches knief from 180mm distance; 64model hand gun from 195mm.
2. Elegant appearance, super sensitivity.
3. Rigid for tough service, no damage through free dropping at one meter altitude.
4. Large 10'' scan surface for quick, thorough scanning.
5. 2 kinds of alarm method: buzzer & LED alarm; viberation & LED alarm.
6. Adjustable sensitivity, easy use
7. Low battery light/ Charge light gives a timely alert
8. After installing chargeable battery (*Optional) in the battery compartment, you can charge the device directly.
9. Warranty: 12 months, parts and labor.
Technical parameters
1. Operating Temperatures: -15℃ to 55℃
2. Power: 9V (6F22) standard or rechargeable battery (*Optional)
3. Frequency: 25 kHz
4. Voltage: 9V (6F22)
5. Indicators: Speaker; LED Alert Lights
6. Controls: Off Switch; Vibration Alarm Switch; Sound Alarm Switch; Sensitivity Adjuster
7. Battery: Single 9 volt battery provides up to 60 hours of normal operation. Rechargeable battery provides up to 20 hours on each 6-hour recharge.
Dimensions
Width: 8cm
Thickness: 4.2cm
Length: 41cm
Weight: 400g (without battery)
Accessories (**Optional)
Rechargeable Battery Kit: Allows recharging without the need to remove the battery.
Belt Holster: carry easily
Applications
Airports, Sporting Events, Prisons, Nuclear Facilities, Correctional Facilities, Transportation Terminals, Public and Private Buildings, Loss Prevention, Schools, Corporate Security, Stadiums/ Concerts, Historical Landmarks