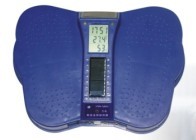 Shoe Sole Metal Detector
Model No.: WLT-XDII
Introduction
WLT-XDII is a new type shoe sole metal detector, which is the professional security equipment for police, security guards. It is especially suitable for the sites needing ultra high detection precision, such as public place, or factory, examination hall at school, airport, public security bureau, frontier defence, court of justice, prison, gymnasium, large activities, and customs station etc for safety inspection, as well as other precious metal manufacturing plants like electronic factory, hardware and ornaments enterprises for the purpose of anti-theft inspection. The detector has a high detection precision, easy operation, light and beautiful outer appearance, sonorous sound, light and beautiful outer appearance. And it removes the detecting blind are of common walk through metal detecting door.
Features:
1. Easy and convenience for operating.
2. Sensitivity adjustment. The sensitivity can be adjustable depends on the conditions.
3. Light Alarm. When detecting metal, buzzer and alarm light alarm at the same time.
4. Can be detected left and right shoe sole at the same time. Showing from the alarm light, it's easy to know which shoe has metal inside. It expedites the speed of security inspection.
5. Low power consumption, when inoperative, the detector goes to awaiting status.
6. Counting function. Can be shown the alarm times, and have the function of remaining data will take off the electricity. After statistics the data, the counting can be go to zone.
Specific Index:
1. Measurement: 500(L)*350(W)*100(H)mm, outstanding area is 80mm (H0.
2. Weight: 7.3KGS
3. Working power: 12V
4. Capacity: Awaiting status: 0.96W, Alarm status: 2.65W
5. Currency: Awaiting status: 80mA, Alarm status: 220mA
6. Mode of alarm: Sound and Light Alarm at the same time.
7. Working temperature: —20℃~+55℃;
8. Working humidity: 5%~95%RH;
9. Standby weight: 150KGS.
Application:
It is apply for the place that the walk through metal detector can't be detected and not convenience for taking off the shoes. The detector can detect the dangerous goods inside the shoes quickly, for instance, blades, kinds of precious metals etc. can be used with walk through metal detectors, handheld metal detectors.
1. Apply for bus station, railway station, harbor and wharf,
2. Army, public security bureau, court of justice, procuratorate, prison
3. Detention house, reeducation and rehabilitation school
4. Large activities, gymnasium, scenic spot, finance and electric power
5. School and hotel, embassy, museum, recreation places, factory and enterprise etc for security inspection and anti-theft inspection.