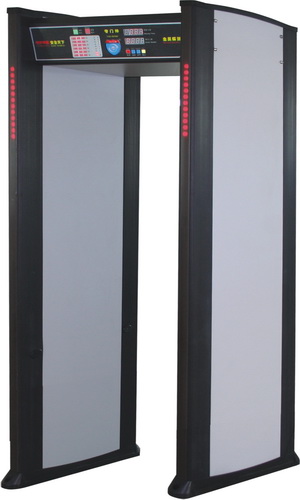 LED Digital Metal Detecting Door (security inspection door)
Model No.: WLT-B5000
Introduction
1. The detecting door is highly creative and made of PVC advanced synthetic materials, with aseismatic design. Both the top and bottom of the door body are equipped with waterproof casing which can prevent water, fire and erosion etc.
2. Possess six lapped metal detecting areas, adopt the current digital pulse technology, interactive transmitting and receiving, and fix the position of metal articles accurately.
3. Both sides of door post contain 200 pieces of LED lamps and the panel of main unit possesses LED indicating modules by which you can directly see the position of prohibited articles hidden on the human body. The visual angle reaches as much as 360 degrees, which is clear and bright improving the work efficiency to a great extent.
4. Each detecting area has 100-level adjustable sensitivity programs. In order to detect different prohibited articles, you can pre-set the sensitivity relevant to the possible position, volume, weight and size of metal articles, and get rid of the belt clamp, key, ornaments and coin etc. At the max sensitivity, the detecting door can detect the clip-sized metal.
5. The detecting door adopts the composition circuit design, with adjustable signal frequency. It is equipped with advanced scatter-type infrared scanning, and able to capture the Induction signal quickly. Additionally, multiple detecting doors connected together can work independently of each other.
6. The detecting door is equipped with a powerful DSP signal processing digital filtering system which adopts the most advanced electromagnetic compatibility technology in the word nowadays to achieve an excellent resistance to electromagnetic disturbance, touch and impact.
7. The detecting door is equipped with a built-in self-diagnostic program. It carries on a self-diagnosis when starting operation. Additionally, it can automatically give a prompt on the error, measure and show the interference from surrounding environment.
8. It automatically counts the number of people passing by as well as the quantity of alarm events, with an accuracy reaching 100%.
9. It is equipped with cipher protection and operated by the specialized personnel only, so as to avoid unauthorized parameter change. It is free from maintenance and regular calibration.
10. It possesses RS-485 communication interfaces which can connect with other computers to monitor and summarize the conditions of service. Additionally, it can be equipped with the remote control unit as required.
11. It conforms to the international safety standards, and has no bad effect on the heart pacemaker in human body, pregnant woman, magnetic floppy disk, video tape, magnetic tape, and roll film record data etc.
Technical parameters:
Operating temperature:-20℃ +55℃
Power source: AC220V f: 50HZ
Gross weight: about 85kg Power consumption: P≤<35w
Transmitting frequency: 6.99~11KHZ six selectable frequencies
Passing rate: more than 60 persons per minute
Conform to standards: GB15210-2003
Passage size: (mm)2055(Height) ×700(Width)×500(Depth)
Outer size: (mm) 2225(Height) ×820(Width) ×522(Depth)