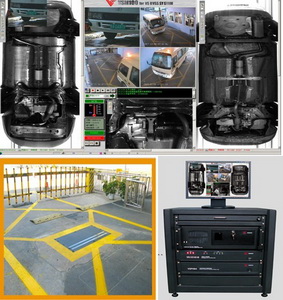 Fixed-type Vehicle Chassis Imaging and Scanning Equipment
Model No.: WLT-UVSS-I
Introduction
WLT-UVSS-I fixed-type vehicle chassis security inspection system is an information management system which can automatically carry out the image collecting, display, comparison and alarm on the vehicle chassis. It can effectively detect the bomb shell, weapon, biochemical dangerous articles and security risk hidden at the bottom of vehicle, and prevent the drugs, illegal smuggled goods and illegal immigration hidden at the bottom of vehicle from passing through the checkpoint.
Application
Airport, government, prison, bank, embassy, army, harbor, public security organs for safety inspection, important anti- terrorism sites like entry and exit inspection at the customs and frontier, important places like entry and exit inspection at the parking space, toll station, large conference, moving vehicle, as well as the testing organizations which check the vehicle chassis.
Feature
1. It adopts the color or black-and-white line scan imaging device, with an image resolution of 2048 pixels, and a visual angle detecting width of not less than 3.0 meter. It can clearly detect the objects with a diameter not less than 2 mm, and the images are clear and complete without distortion.
2. Display: 19 inch wide high-definition liquid crystal display;
3. Power supply unit: AC220V power supply;
4. The equipment can bear a pressure ≤30T vehicle weight (except glass window) outdoors;
5. The system can work at -20℃ to 50℃ with a high adaptability. It can bear the pressure, and resist the dust and rain in the open air. So it can work all day stably and reliably.
6. The vehicle-bottom image collecting equipment can display the clear and complete vehicle chassis images within 1 second after the vehicle passes through the it at the speed of 1 to 30km/h. The system will automatically generate a dated file folder, and save the vehicle chassis images into the file folder according to the date and time for future reference.
7. The vehicle-bottom image collecting equipment possesses the self-owned vehicle bottom inspection software and Chinese operation interface. It enables the storage, playback and zooming of vehicle chassis images as well as processing of all kinds of images for future retrieval. It takes less than one second to get the images from the file folder.
8. The vehicle detecting system can automatically come into operation, and has an information management system integrating image collecting, display and comparison etc.
9. The system can realize the multiple-route scene video recording and monitoring, and check the scene video freely.
10. The system can work together with other systems at the passage (such as anti-collision system and passage gate etc).
11. The system supports the multiple- passage management mode.