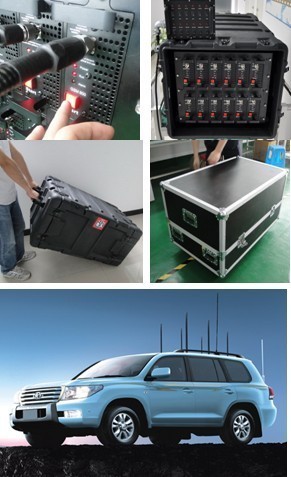 Vehicle Mounted Jammer
Model No.: WLT-MCP1.2
WLT-MCP1.2 is specially customized to accommodate a fully integrated broad band jamming system which provides the ultimate solution for Military and Police convoys or VIP protection.
The WLT-MCP1.2 System covers continuously and simultaneously the full spectrum of RF communication frequencies from 20MHz to 2500MHz.
The Driver/Operator may choose to leave certain communication links "open" as and when required.
Thoughtful design ensures that all elements of the system are concealed in a covert manner. The jammer modules; independent 6000 watt AC generator; back-up battery pack and all other components are hidden from view inside the trunk and rear compartments of the vehicle. The systems omni directional antennas are all concealed beneath a fiberglass false roof.
The Operator's remote control panel, located near to the Driver provides quick access for full system control.
Internal RF protection shielding provides safety for Driver and Passenger.
Optional armoring to level B6 is available for all our Military and VIP vehicles.
The MCP1.2 was designed to ensure continuous uninterrupted effective jamming protection whilst in transit, plus all weather capability. The system operates continuously in all weather and all road conditions.
There is simply no better way to defend your Troops from the threat of radio activated bombs.