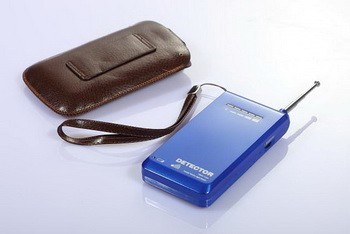 Wireless Spy Camera /Bug Detector
Model No.: WLT-01H
Specifications
1. Detecting frequency range: 100-5800MHz
2. Working range: 1-10meters
3. Working voltage: 12V (built power source)
4. Power consume: 100mW
5. Dimension: 108.6(L)×55.5(W)×18.5(H)
6. Weight: 100g
Function
1. Detect the various wireless earphones exactly.
2. detect and orientation various communication equipment (cellphone, interphone, high-power transmitter inner car, dictograph, wireless pinhole camera, wireless video communication equipment, homemade communication equipment, radio etc.)
3. Inductive & passive detecting technology, no radiation.
4. With paste components and integrated circuits for advanced performance, low power and can work continuously for a long time.
5. With intelligent analysis software inside, alarm exactly and promptly.
6. The software can upgrade to meet other further requirement.
7. High intensity of signal detecting which can get the slender signal exactly.
8. The inimitable circuit manages the close signal in the equipment which can get the exact orientation in crowd.
9. 8 indicators to show the intensity of the signal
10. With vibration and buzzer for warning choice.
11. Monitoring the conversation of the wireless phone by earphone